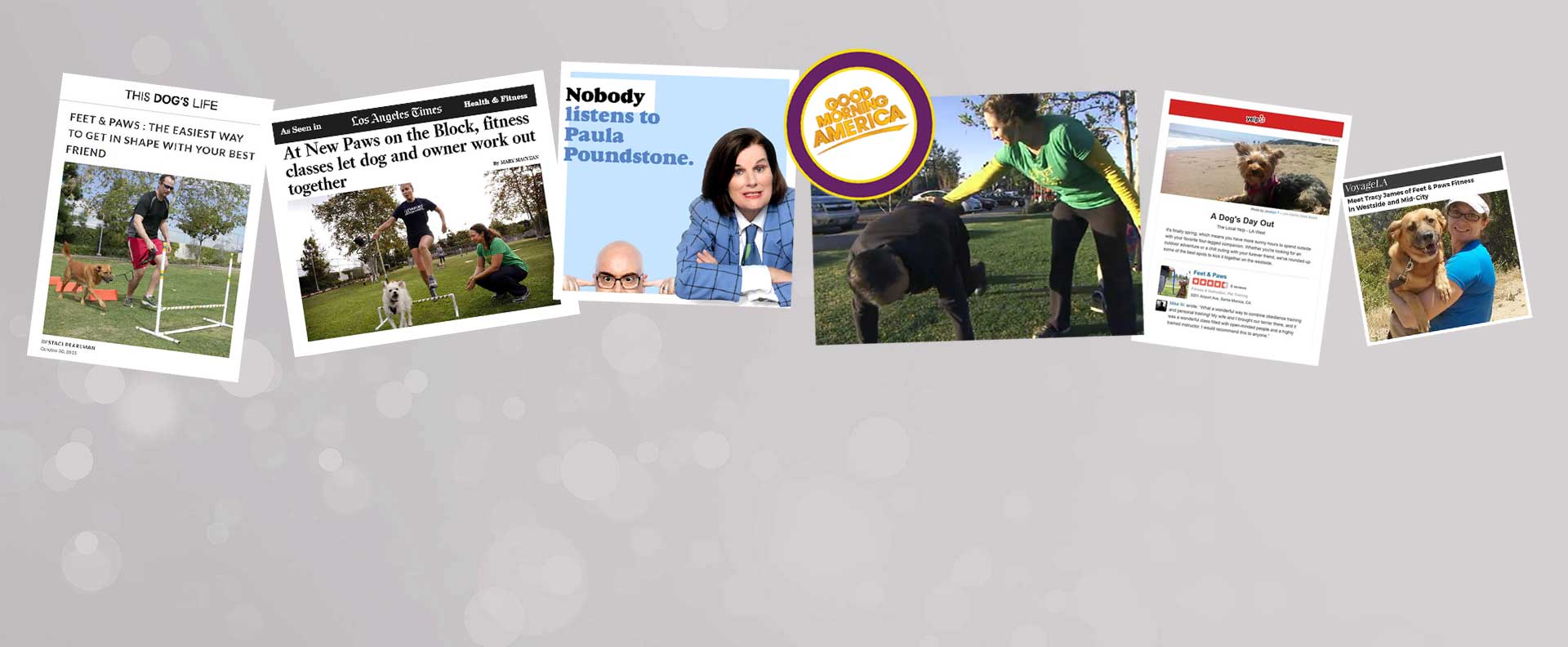 In The Media
Interested in including Feet & Paws in your article, blog, podcast, or television show?
Feel free to -CONTACT ME- today!
Start My Free 21 Day Training Crash Course
Over the next three weeks, you'll get helpful dog training tips and tutorials, fun canine and human fitness training exercises, and a collection of other healthy living guides right to your inbox 😉.
You'll also receive additional dog and fitness training pointers, cute and inspirational stories, and my in-person and online class and pack walk schedule through my regular Fun Feet Pawblication©.
Good Morning America | December 2015
This piece highlights Feet & Paws' workout with your dog classes.
"If you're a little more outdoorsy — try Feet and paws fitness. A daybreak boot camp for human plus canine. Tracy a certified fitness trainer and dog trainer, definitely helps you work up a sweat and spend time with your dog." ~ABC Correspondent Nick Watt
L.A. Times | August 2015
At New Paws on the Block, fitness classes let dog and owner work out together by Mary MacVean
"Aura: Encouraging. And it's fun to have your dog with you. As founder Tracy James put it midway through a round of exercises: "Look at your dog to take that pain away. The pain is temporary." And she never forgets the dogs, including a short dog massage after the final stretch. (James takes vaccine records and will assess your dog before you get started.)"
To read the full article visit http://bit.ly/FandP_LATimes_2015-08
L.A. Times | December 2013
Volunteer seeks (Kuranda) pet beds for L.A. shelter during the holidays by Samantha Schaefer
"Volunteers are hoping to fill one of Los Angeles' largest animal shelters with more than 200 pet beds so dogs and cats will have a soft place to sleep this holiday season.
Tracy James, who has been volunteering at the L.A. Animal Services North Central Shelter since 2009, came up with the idea after reading about a similar drive at another shelter."
To read the full article visit http://bit.ly/FandP_LATimes_2013-12
Yelp | April 2017
A Dog's Day Out: Feet & Paws, a great dog-friendly activity in West Los Angeles
"It's finally spring, which means you have more sunny hours to spend outside with your favorite four-legged companion. Whether you're looking for an outdoor adventure or a chill outing with your furever friend, we've rounded up some of the best spots to kick it together on the westside."
Voyage LA | April 2017
Meet Tracy James of Feet & Paws Fitness in Westside and Mid-City by Voyage LA
"Today we'd like to introduce you to Tracy James. Tracy, can you briefly walk us through your story – how you started and how you got to where you are today.
My interest in fitness was sparked in 2004. While in my third year of Art College, I started walking on a regular basis to get away from the computer and relieve stress."
To read the full article visit http://bit.ly/FandP_VoyageLA_2017-04
This Dog's Life | October 2015
Feet & Paws Fitness: The Easiest Way to Get in Shape With Your Best Friend by Staci Pearlman
"Let's face it: fitness isn't always fun. But, what if we told you there was a way to make it entertaining, enjoyable and a family affair? Thanks to Feet & Paws Fitness, every dog owner's dream has finally come true.
Feet & Paws Fitness is about helping people be healthy and active with their best friend by integrating dog obedience with fun agility drills and challenging strength training in one-of-a-kind group fitness classes. With Feet & Paws Fitness, dog parents get a chance to play, too. From agility ladders to hurdles and fitness games, everyone gets in on the fun."
To read the entire article visit http://bit.ly/FandP_ThisDogsLife_2015-10