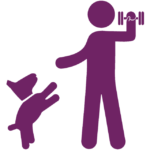 Fitness Classes with your Dog
Santa Monica, CA
See Feet & Paws in Action
Check out my Dog and Fitness Training Videos on YouTube!
Train in the comfort of your own home
Strength, cardio, & agility training for you and your dog
Troubleshooting tips and intensity levels
1. Request a Consultation
Fill out the consultation request form to tell me about your and/or your dog's training needs and goals.
2. Complete Payment
After you submit your request, you can pay the consultation fee using our secure online payment system.
3. Schedule Consultation
Once your payment has been received, Tracy will reach out to schedule your consultation appointment.
Tracy is fantastic! We took her intro training group class and had her over for private training as well to address our dog's fear of being in the car. I don't know where we'd be without her. Our pup has learned a ton and so have we. And we all have a lot more confidence and capability now to keep learning! We would definitely recommend for new pup owners and anyone who wants to deepen their relationship with their dog.

We always have such a great time at class. My dog and I take Tracy's fitness class whenever we can. It's such a brilliant idea: my dog gets to run around and get lots of energy out (always the plight of the dog owner), and I get a great work out on top of everything too. The biggest thing holding me back from exercising was having to leave my dog at home, problem solved!

Tracy is an experienced and thoughtful personal trainer. She tailors my workouts to fit my needs while adding variety and fun to our sessions. Her instructions are clear and exercises highly effective. She makes me feel cared for, supports me in my goals, and motivates me to continue training. I have benefited greatly from her expertise and dedication.

Tracy is very intuitive and knowledgeable with dogs. We took a beginning class with our recently adopted rescue pit-mix. She was able to help us stamp out our dog's anxiety and respond to simple commands at the end of the course. Practicing consistently during the week is key. Highly recommended.

Tracy was well prepared, understanding, and considerate towards the individual dogs' needs. Additionally, I appreciated how she was actively responsible and looked after our pack on the trail. She would politely notify people who off-leashed their dogs (of unknown disposition and training) that some of our dogs may not react well. I felt Tracy would be good at managing bad situations should they arise, and would trust her to keep the pack safe. Thank you, Tracy!

Fantastic class. I'm always looking for activities in which I can participate with my four-legged child. Tracy has a great approach, calm presence, and positive attitude. Love the balance of activities and my muscles tell me I'm getting a solid workout too. Thank you, Tracy!

We have been attending Tracy's obedience class with our young dog since he was five months old. (2+ months). Tracy is amazing with a wide variety of dogs, patient, methodical, and has helped us in many ways, large and small. She definitely has the touch and is able to explain so many small things that need adjustment between the human and the canine. We are getting results with our rambunctious puppy and I'm grateful for her talent, kindness and helpful class. We recommend her enthusiastically.
After you submit this form look for an email from tracy@feetandpaws.com. It will include information about what's next, like scheduling a brief phone chat so I can learn more about your specific goals. This is at no cost to you and allows me the opportunity to address any questions you might have about my services.
Make sure to **Add tracy@feetandpaws.com to your Safe Sender list**.
I can't wait to meet you and your dog!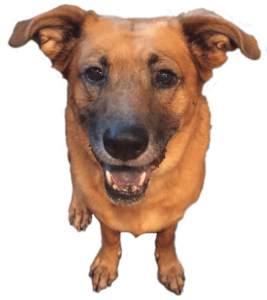 Any attention is good attention to me and most other dogs. So, if your dog is doing something you don't like, don't pay attention to them.
Giving us that attention makes us want to continue doing that unwanted behavior over and over again.
Start My Free 21 Day Training Crash Course
Over the next three weeks, you'll get helpful dog training tips and tutorials, fun canine and human fitness training exercises, and a collection of other healthy living guides right to your inbox 😉.
You'll also receive additional dog and fitness training pointers, cute and inspirational stories, and my in-person and online class and pack walk schedule through my regular Fun Feet Pawblication©.
Get Helpful Tips, Inspiring Stories, and Much More Straight to Your Instagram Feed