What do you mean, Fitness Classes with your Dog?
I know first hand how unfortunate it is that our best friends have to stay behind while I go to the gym. After all, they enjoy physical activity and mental stimulation too! Our fitness classes with your dog, through strength training and cardio drills for you and your dog while incorporating dog obedience skills,  provide just that and more. Click -HERE- to find out why you should workout with your dog.
---
GETTING STARTED WITH FITNESS CLASSES WITH YOUR DOG
Your team's health & safety is important to us! So, if you're new to F&P,
follow these steps & you'll be enjoying fitness classes with your dog in no time!
Class Schedule
**Consultation required for all new teams before attending first classes**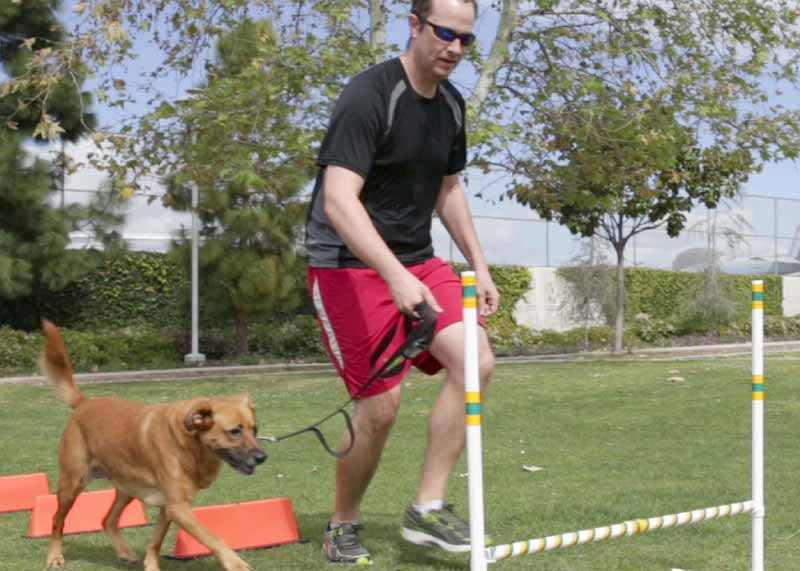 Perfect For: Socialized, up-to-date and fully vaccinated dogs (Rabies, DHLPP, and Bordetella) who are at least 6 months old and behave well on leash + their owner(s)
Where: Santa Monica Airport Park, 3201 Airport Ave., Santa Monica, CA -MAP-
Cost: As low as $15. For more information see the Prices tab below
Class Description: This all-levels class is the perfect way to launch, rejuvenate or compliment your fitness routine. It's an action-PAWcked class that focuses on cardio, strength, and agility training for you AND your dog while also integrating basic (and beyond) dog obedience skills. Don't worry, plenty of fitness form cues and dog obedience tips provided!
Interested in a private class for you and your friends with your dogs? Contact us today for a quote!
Looking for our Dog Training Classes? Go to http://feetandpaws.com/services/dog-training-classes/
Prices
Our tiered pricing REWARDS YOU for getting out and active with your dog more often!
There are two team options available, Basic and Couple, for all Feet & Paws' classes.
Click on the tabs below to see each option's prices for our classes & activities. Prices shown are for payments made with cash, Venmo, Zelle, or check. Paying full price by credit card is available at https://squareup.com/store/feet-and-paws.
BASIC TEAM ( = 1 DOG + 1 PERSON)
Expires 2 months after purchase unless otherwise noted.
Consultation + First Class*
Required for all new teams. Prepayment online only.
Expires 2 weeks after purchase.
$54
2 Classes
$48 ($24/class)
4 Classes
$84 ($21/class)
6 Classes

$108 ($18/class)
8 Classes —

Best Value!

$120 ($15/class)
FAMILY TEAM ( = 1 DOG + 2 PEOPLE)
Expires 2 months after purchase unless otherwise noted.
Consultation + First Class*
Required for all new teams. Prepayment online only.
Expires 2 weeks after purchase.
$96
2 Classes
$88 ($44/class)
4 Classes
$152 ($38/class)
6 Classes

$192 ($32/class)
8 Classes —

Best Value!

$208 ($26/class)
*Consultation required for all new teams before attending first class
Complete purchased class(es) anytime before expiration. Space in class subject to availability. Options and prices subject to change without notice.
I look forward to training with you and your dog soon!
Connect, follow & like F&P
Enter Your Email To Get My Top 5 Dog Training Tips!
Videos from Class
I love our students, and our students, two and four legged, love class (don't just take it from us—you can read our testimonials above). Each class is kept small, with no more than six human students. This provides each team with lots of instruction and guidance from our dog and fitness trainer, Tracy James. Each class is different but always combines strength training for you and your dog as well as integrating dog obedience skills. Of course, since this is a specialty class unlike no other, it's hard to get a true sense of what to expect. So, until you are able to join us in class with your dog, I invite you to get a taste by watching a few clips from our classes.
What Our Students Have To Say
I've been working with Tracy for over six months now and have seen so many changes in my body. I'm more strong and flexible. She's really fantastic at what she does!
What's better than spending time with you dog and getting fit at the same time? Tracy is a great trainer that really listens to her clients, and is also very intuitive with the dogs. It makes for a fun time while working out your muscles! I was worried that my less than perfectly obedient dog would be disruptive, but Tracy always had great training tips while still engaging me in the workout. Highly recommend.
Lorna & Huey
Fitness Classes with Your Dog
Just had 2 lesson with my pooch with Tracy He is picking up and progressing very well. Tracy is connecting with dog and owners. She been excellent in explaining both dog and human reactions to training methods.
Geneen & Tiger
Private Dog Training
I liked how Tracy was well prepared, understanding, and considerate towards the individual dogs' needs. Additionally, I appreciated how she was actively responsible and looked after our pack on the trail. She would politely notify people who off-leashed their dogs (of unknown disposition and training) that some of our dogs may not react well. I felt Tracy would be good at managing bad situations should they arise, and would trust her to keep the pack safe. Thank you, Tracy!
Jennifer Wu
Pack Walk Meetup
I find that Tracy is a wealth of knowledge, when it comes to dogs and what their needs are. We had a lot of fun and was very sore the next day. Can't wait for our next class!
JW C. & Sasha
Fitness Classes with Your Dog
Tracy has really helped me so much. I've not only lost weight since starting to train with her, but I'm actually enjoying working out!
I'm learning new ways to train my dog in behaviors and we both love the exercise. My dog is more attentive to commands and my muscles hurt in a good way.
Mel & Linus
Fitness Classes with Your Dog
After getting our second dog, we realized that we needed some help. While our first dog was already trained, our new dog, Otto, was a door dasher, guarded the couch, and pulled and was slightly reactive on leash. It was making life a bit impossible. We had Tracy over for a few sessions and she showed us a variety of different tricks to try. She took the time to explain and demonstrate things and, after we had some time to practice, it finally started to click for me and Otto. Life is a lot easier now! We even make it out to Tracy's fitness class sometimes. We both have a great time. Thanks Tracy!
Shiri G. & Otto
Private Dog Training
Awesome trainer! She shows me each exercise so I do it correctly, shares great nutritional tips and set up a program that I can easily fit into my schedule. Highly recommend!
Matthew W.
Personal Training
My dog and I took a few Feet & Paws workout classes before deciding to sign up for a couple private lessons with Tracy to work on some issues we were having, (like pulling on the leash, etc). She came over for a few sessions and was very patient showing us what to do. It's been especially great because she continues to help us with those specific issues whenever we're at the fitness classes. Gretchen has shown a lot of improvement since we've been working more closely with Tracy. I'm really glad we signed up for the private training. Highly recommend.
Melissa C. & Chicken
Private Dog Training
Irwin and I love going to class together! We bond while getting in a workout. It's the best!
Cathy & Irwin
Fitness Classes with Your Dog
I love Tracy's commitment to my baby's enjoyment and safety. There's a good balance and variety of activities for both of us and a positive energy. We have mentioned the class to several people. It's a great idea and we're so glad we found the group!
JR & A
Fitness Classes with Your Dog
What a wonderful way to combine obedience training and personal training!
My wife and I brought our terrier here and it was a wonderful class filled with open minded people and a highly trained instructor. I would recommend this to anyone.
Mike W. & Otis
Fitness Classes with Your Dog
Feet and Paws is such a great idea! Gives you a chance to get out, get moving and while also getting your pet out for some exercise too! Tracy who runs it really knows what she's doing!
Shane K.
Official Photographer
Why Should I Workout with my Dog?
Great question! Despite enjoying it (don't just take it from us—you can read our testimonials in the tab above) and having the best workout partner ever, there are many appealing health benefits from being physically active for both you and your dog. For these reasons, which I've shared below, I created fitness class for you to enjoy with your dog so you could be live a healthy lifestyle together. These classes are crafted to be challenging for all fitness levels and allow all dog breeds.
Benefits of regular physical activity can help you and your dog:
Live longer
Control weight
Reduce the risk of heart disease, diabetes & cancer
Improve mental health & performance of daily activities
Or, if you're like me, you'll enjoy this sweet info graphic ...
Request Consultation
You'd like to request a consultation. Woohoo! This means you're one step closer to attending our fitness classes with your dog. Fill out the form below and, shortly after receiving your request, I'll be in touch. Helpful tip: Watch your email for something from tracy (at) feetandpaws (dot) com.
Here's what we'll go over during your consultation:
Go over what you will need for class
Assess you and your dog's health
Provide informational handouts
Evaluate your dog's training skills & temperament*
Discuss your fitness and training goals
*I evaluate dogs of all types and temperaments. Dogs that are found to have undesired behaviors/temperament may be allowed in class/activities ONLY IF they are properly handled and controlled by the handler at ALL times.